TTL, Manual & PowerTrack mode setup
Godox and PocketWizard TTL
To set up the Raven for use with TTL you simply tap that letter zone on the screen or the zone button to highlight that zone.  When highlighted that zone will have a white circle around it.  Once your zone or zones are highlighted, press Fig 1.  Then select TTL, and the screen will return to the Zone Control Display. 
Profoto TTL
Profoto does their TTL in a different method from Godox or PocketWizard.  They use a single preflash for all zones vs. independent metering for each enabled zone.  This means that the camera calculates a single lighting brightness and then Raven divides that up for each zone.  This method however requires that all zones be in TTL or all in Manual at the same time.  You cannot mix modes if Profoto is one of your selected brands.
Nikon Raven
The Nikon Raven only supports up to 3 zones (A, B, and C) for TTL for all brands of flash.
Canon Raven
The Canon Raven supports all 4 zones for TTL when using Godox flashes.

 Fig 1
To begin, make sure the zone you intend to use has the power level displayed in that particular zone. If that zone is blank, tap on the screen or press the button for that zone for 1 second. Once you see a power value displayed, you are ready to set that zone to Manual
To begin quickly press the button or tap the screen for the zone, or zones, you want to use for manual control and the letter will become highlighted
Now tap 

 

in the center of the screen while the zone, or zones, are highlighted
Here you will tap on 

 

to switch that zone, or zones, to manual control.  Then you will be returned to the Zone Control Display and can now make changes to the power levels.


PowerTracking allows for automatic adjustments to your flash power based on your changes to the aperture, ISO, or a combination of both.
To set up PowerTracking and choose your options, you will need at least one zone to be active with the letter highlighted.  Then start by tapping on Fig 1  in the Zone Control Display.

 Fig 1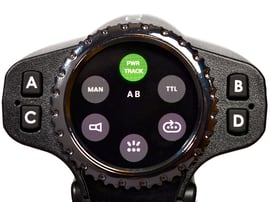 Then tap on PWR TRACK.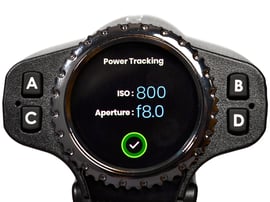 From here you can choose the option that best suits your needs.  ISO, Aperture, or Aperture and ISO.  Tap on Fig 2 once your selection has been made.  Now you confirm the Aperture and/or ISO you are currently using on your camera and press Fig 2 when finished. 

 Fig 2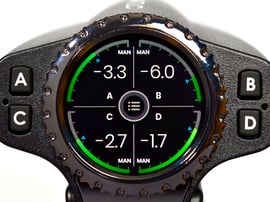 This will return you to the Zone Control Display.  The zone you selected for PowerTracking is now displayed with a blue arrow along the power bar.  From here you can adjust the exposure set point by rotating the ring dial and let the Raven control the rest.
This mode is perfect for studio photography where identical exposure is needed, but the camera settings change shot to shot. Adjust your depth of field without needing to adjust your lights: Raven makes it just right.
*PowerTracking can only be used in Manual Mode.