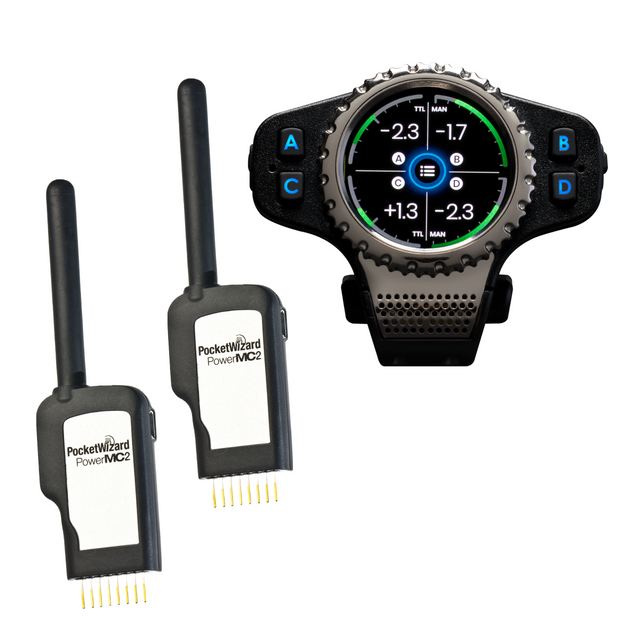 This kit includes one Raven for Canon cameras and two PocketWizard PowerMC2 Receivers for certain Paul C Buff strobes, including the Einstein, Celestial, and LINK.
The PowerMC2 Receiver Module connects to Einstein E640, Celestial, and LINK flashes from Paul  C Buff. With a Raven from Fusion TLC on your camera, you can adjust flash power directly from the camera position and use SyncView technology to trigger your flash at shutter speeds far above X-sync to overpower the sun.
The Einstein can be triggered from a PocketWizard MiniTT1, FlexTT5, or FlexTT6 or with a Raven, and you can control power to three different zones of light in 1/3 stop increments.
Using a Raven as your transmitter, you can control power to three different zones of light in 1/10 stop increments for all three flashes. You can also use HSS and TTL with the LINK or Celestial.
An Einstein with a PowerMC2 module is also compatible with all PocketWizard transmitters and can use either the Legacy or E Release firmware protocol. It also can be triggered by Sekonic meters with PocketWizard modules.
Camera Brand Compatibilities
Nikon:
D3200, D3400, D3500, D5000, D5100, D5200, D5300, D5500, D5600, D7000, D7100, D7200, D7500, D500, D600, D610, D750, D780, D800, D810, D810A, D850, Df, D4, D4s, D5, D6, Z50, Z5, Z6, Z6 II, Z7, Z7 II, Z fc, Z9, Z8
*Click title for more details
Canon:
Rebel SL1, Rebel SL3, Rebel T4i, Rebel T8i, 70D, 77D, 80D, 90D, EOS R, 6D, 6D Mk II, 7D Mk II, 5D Mk III, 5D Mk IV, 5Ds, 5Ds R, 1Dx, 1Dx Mk II, 1Dx Mk III, R3, R5, R6, R6-II, R7
*Click title for more details
Flash Brand Compatibilities
PocketWizard "E Release"
Plus IIIe, PlusIVe, FlexTT5-Nikon, FlexTT5-Canon, FlexTT6-Canon, PowerMC2
*Click title for more details
Godox
AD100, AD200, AD200 Pro, AD300 Pro, AD360II, AD400 Pro, AD600 Pro, AD600BM, AD1200 Pro, TT350, TT600, TT685, TT685II, V1, V350, V850II, V850III, V860II, V860III, X1r, MS200, MS300, SK300II, SK400II, DP400III, DP600III, DP800III, DP1000III, QT400IIM, QT600IIM, QT1200IIM, QT400IIIM, QT600IIIM, QT1200IIIM, FV150, FV200, LF308
*Click title for more details
Using PocketWizard FlexTT5, FlexTT6 or MC2
LINK, Einstein, DigiBee, AlienBees, White Lightning, Celestial
*Click title for more details
Profoto
A1, A1X, A2, A10, B1, B1X, B2 AirTTL, B4 Air, B10, B10 Plus, B10X, B10X Plus, C1 Plus, D1 Air, D2 AirTTL, D4, Pro 8a Air, Pro 10 AirTTL, Pro 11
*Click title for more details
Using PocketWizard FlexTT5 or FlexTT6
SB500, SB600, SB700, SB800, SB900, SB910, SB5000
*Click title for more details
Using PocketWizard FlexTT5 or FlexTT6
270EX, 270EX II, 320EX, 430EX, 430EXII, 430EX III-RT, 550EX, 580EX, 580EXII, 600EX-RT, 600EX-RTII
*Click title for more details
*Click title for more details
Reflex and Reflex S
*Click title for more details
FAQs
Q. What is FCC and CE and why is the Raven sold in two different frequencies?
FCC and CE are seals that serve to validate the product and confirm that it's safe for public use. The Raven is sold in two different versions to comply with radio laws in different countries. In North, Central and South America, the FCC reserves the 344-354 MHz frequency for the Raven. In Europe, Oceania, Africa and Asia, regulations assign 433-434 MHz for CE.
If you are using PocketWizard radios with your Raven, you will need to use the same frequency for all of your radios. Products that use the 2.4 GHz band use the same frequency range so the FCC or CE designation will not matter.
Q. Will the Raven work with my PocketWizard radios?
Only PocketWizard radios using a specific E-Release firmware version can be used as a receiver with the Raven. If you are not familiar with the E Release firmware upgrade, you can learn about it and get yours here.
Make sure to check the frequency of your radios. You need to make sure that both your PW and Raven are using the same frequency meaning they both should be with CE or FCC.
Q. Can I use the Raven to trigger a remote camera?
Yes! You will need to purchase a Remote Camera Control Triggering Cable for Nikon cameras from here. You don't need any cables for Canon cameras.
Q. Is it possible to fire more than 4 zones on the Raven?
The Raven has only 4 zones at the moment. We don't intend to add more anytime soon as there are other developmental projects in line.
Q. Can I fire two flashes from each zone? 
You can set and fire as many flashes as you want from each zone, but they will all be fired at the same power.
Q. Are you planning to add more camera and flash brand compatibility?
Yes! We are planning to add Sony, Elinchrom, Westcott and Broncolor in 2023. Make sure to signup here and be the first to know of your camera or flash brand compatibility launch.
Included In Box
1x Raven
1x USB Charging Cable
1x Quick Start Guide
1x Padded Carrying Case
Please visit the menu on our website for a detailed manual.
Shipping Policy
All orders with standard / normal shipping methods selected will be processed within 1 to 3 business days (excluding weekends and holidays) after receiving your order confirmation email.
Shipping charges for your order will be calculated and displayed at checkout based on your destination city and country.  Free shipping is applicable to only US orders. However, a $6.99 charge will be applicable on all US and global orders for mandatory signature upon delivery. 
Your order may be subject to import duties and taxes (including VAT), which are incurred once a shipment reaches your destination country. FusionTLC is not responsible for these charges if they are applied and are your responsibility as the customer.
Please view the complete shipping policy for more information.
Warranty
The Raven comes with a limited, one year manufacturers warranty against manufacturer's defects for parts and labor that is automatically activated from the date of Raven purchase. For more information, please visit Warranty Coverage and Repairs
Return Policy
We have a 30-day return policy with 100% money back guarantee. Terms and conditions apply. Please view the complete returns and refund policy for more information.