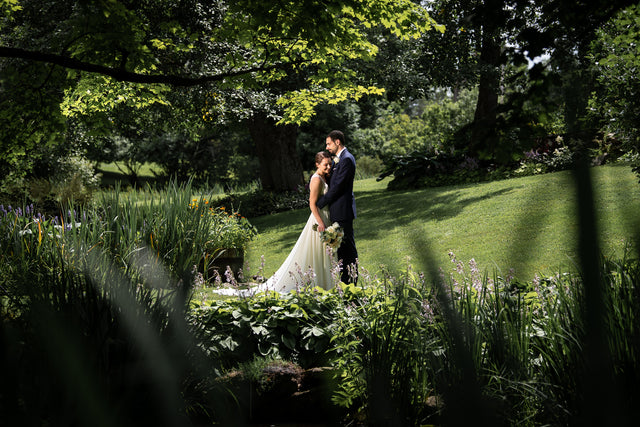 Adam Frehm Teaches How He Captures Breathtaking Photographs At Weddings With A Simple Light Setup And The Raven
Wedding photography is a multidisciplinary category combining documentary storytelling, creative portraiture, product/details and fast-paced action shots. It's not only a demanding job for the many disciplines of photography required, but also for the once-in-a-lifetime nature of the event. For these reasons, Adam Frehm of Love Buzz Photo & Cinema keeps his photographic philosophy and equipment robust yet simple. 
Adam Frehm is a national award-winning lifestyle and wedding photographer specializing in artistic photography of people and events. Adam is a leading Vermont wedding photographer and is a trusted vendor for many wedding planners throughout the state. He has been in the wedding business for over 15 years, while also running a successful commercial photo and video studio.
Adam recently shot a wedding ceremony at the Inn at Round Barn Farm in Waitsfield, Vermont The venue features a bed and breakfast, historic round barn, expansive perennial gardens, ponds and grass meadows.  Adam loves this venue for the variety of textures, colors and rustic backdrops it offers to a photographer. 
"Every wedding comes with an experience of a different love story. Family and friends come together to celebrate one of life's great milestones and there's a wonderful opportunity to preserve the memories of this day.  It's always my goal to tell a story through imagery that's beautiful, creative, and truly authentic to my clients" says Adam. 
The equipment 
Adam typically shoots weddings with a Nikon D750 and Sony A73. His lighting kit includes three Godox AD200's, two small Godox speedlites, and an assortment of Mag Mod light modifiers. This kit gives him a broad range of lighting options throughout the day at any venue.
Photo credit: Adam Frehm of LoveBuzzPhoto.com.
Controlling Adam's kit is the Raven. "One of my favorite features is to be able to see and adjust the power settings on multiple flashes at the same time using the haptic ring dial. Not having to toggle through different screens to access each flash makes my workflow more efficient."
Lighting, direction & personality

"I typically use between two and four off-camera flashes to light up the dancing.  They are set on stands about 8' high and have Mag Grids and sometimes CTO gels on them." 
Photo credit: Adam Frehm of LoveBuzzPhoto.com.
When it comes to shooting portraits, Adam plays a more direct role in crafting the mood, lighting and story of the imagery by directing the couple and position/focus of his lights. He uses the multi-zone level adjustment and SyncView features of the Raven to speed up his creative workflow and enable high shutter speed, wide aperture photos even in strong sunlight. 
"I was pleased with the range while I captured long lens portraits across a pond several hundred feet away from the couple, and the Raven synced up perfectly." 
Photo credit: Adam Frehm of LoveBuzzPhoto.com. 
Adam puts creative ingenuity at the forefront with his sunsetless-sunset photos -- captured by placing a gelled Godox AD200 behind the couple. 
Photo credit: Adam Frehm of LoveBuzzPhoto.com.
Adam captures action on the dancefloor using his Raven to trigger strategically placed Godox AD200's. "The Raven allows me to adjust my lights with speed and efficiency which results in better exposures during critical moments when timing is tight."
 Photo credit: Adam Frehm of LoveBuzzPhoto.com.
Working quickly and efficiently while telling great stories
Adam is the type of photographer who values cutting-edge technology and simplicity in his gear. The Raven helps Adam strike the balance between this pairing with an intuitive user interface and a deep feature set that's easily accessible when needed. "A wedding shoot is challenging enough when you consider all the variables you're dealing with: constantly changing and often difficult lighting situations, moving with your gear quickly from one location to the next, interacting with emotional people (sometimes playing the role of therapist), working in variable weather conditions, often tight and stressful timelines, etc.  Having gear that helps streamline my process and produce results quickly is invaluable."
Adam loves to add macro shots to his wedding coverage. At the Round Barn Farm, he placed the ring in the guestbook and creatively used the Raven as an off-camera light source to make a heart shaped shadow.
''To illuminate details for closeups and macro shots, I like having a constant light source so I can see what effect I'm getting. The Raven's built-in fill light comes in handy for this."
 Photo credit: Adam Frehm of LoveBuzzPhoto.com.
Adam is excited to take out the Raven for his next shoot and see what else he can achieve using it's other advanced features such as the intervalometer, power tracking, and SpeedCycle. "Even though it's feature set is rich, the Raven is quite easy to learn and take out on the job.  Now I'm excited to dive deeper into this amazing tool."
"Having a people-oriented personality and being inspired by wedding photography is extremely important. Doing what I love makes it easier and always more fulfilling.  I'm fortunate to call many of the wedding professionals in Vermont not just colleagues but also my friends.  These people are truly some of the world-wide best in the business and it's an honor to work together in the spirit of teamwork.  These relationships help make my business what it is and allow me to do my best work." 
Photo credit: Adam Frehm of LoveBuzzPhoto.com.