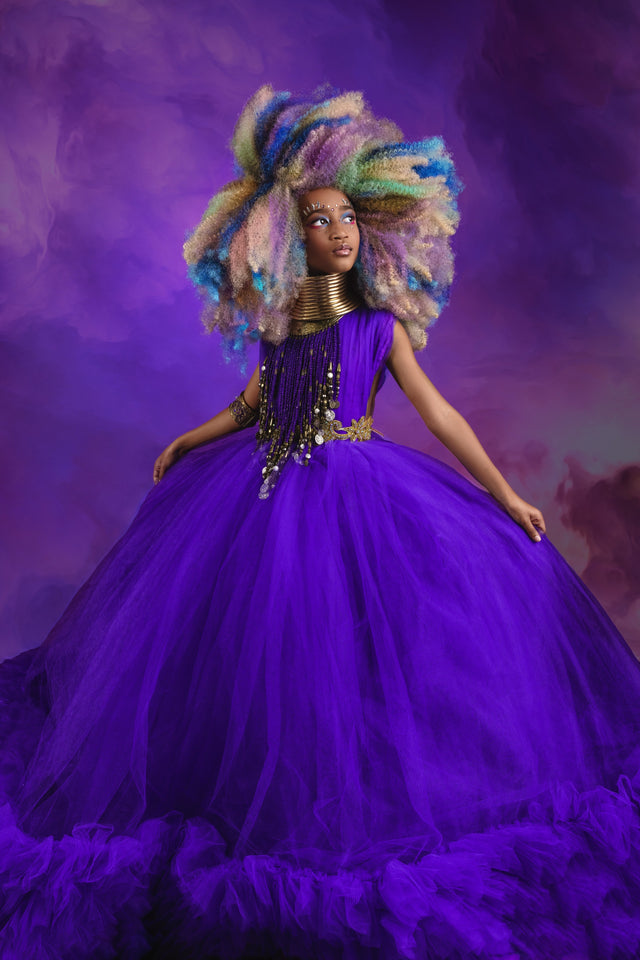 Kahran And Regis Photograph Afrocentric Images With Speed Using The Raven
Passionately driven by unique visual storytelling, CreativeSoul Photography has worked with children, families and brands of color for more than 12 years.
Specializing in Afrocentric lifestyle photography and the authentic storytelling of African ancestry, Atlanta-based dynamic duo Kahran and Regis capture one-of-a-kind moments that offer a fusion with modern trends. As the founders and creative brains behind CreativeSoul Photography, their work has been featured by Teen Vogue, CNN, Glamour magazine, Vogue Italia, Black Enterprise, BET.com, The Real (talk show), BBC News, The Oprah Winfrey Network and more.
Photo credit: Kahran and Regis Bethencourt of CreativeSoul Photography
Childlike dreams
Seeing themselves as 'dream makers' for the many children they photograph, Kahran and Regis' photoshoots require meticulous forward planning. In fact, when working with children, they begin their planning by asking the child: 
"If you could have the photoshoot of your dreams, what would it be?" 
Unsurprisingly, Kahran and Regis have received many requests for unicorns, mermaids and even astronauts in space! It's no wonder their team includes a hair and makeup artist, as well as a wardrobe designer. They've certainly been put to good use!
Photo credit: Kahran and Regis Bethencourt
There's more than meets the eye 
As most of CreativeSoul Photography's photoshoots are held in-studio, Kahran and Regis' typical gear includes their Canon R5, Profoto B10 and B10 Plus flashes, and sometimes their Profoto D2. However, as soon as they unboxed the Raven, they were amazed by the design of the product. 
"It's sleek and handy, and I didn't have to use the instructions at all to guide through it. I accidentally found that I could just slide up and down, and one thing led to another. It's also the perfect gadget for non-technical photographers. Firmware updates are easy and the fact that it could update with WiFi was great, as I didn't have to carry my laptop to the studio. We love using the Raven because it allows us to think less and create more art."
Photo credit: Kahran and Regis Bethencourt
In addition, one of the greatest benefits Regis found in using the Raven, was the ability to set and control different light brands. This was really useful as their team travels often. While they do carry one light with them, it's often supplemented with another light from a rental studio.
The Raven offers the unique ability to trigger and control power levels of two different flash brands at the same time, including brands such as Profoto, Paul C. Buff, Godox (includes Flashpoint & Pixapro), and PocketWizard FlexTT.
Kahran and Regis in action
Regis likes to place his Profoto B10 behind the subject they are photographing, and aim the light towards the background to highlight it. 
In this particular photoshoot he also placed two Profoto B10s – one on each side of the child – to emphasize the child's hair and dress. Kahran and Regis also used a beauty dish in front of the subject to create a beautiful soft light. They used the Raven Sound Trigger feature and adjusted the sound sensitivity by rotating the command ring dial to a hyper-accurate level that worked for their existing environment. 
Photo credit: Kahran and Regis Bethencourt
With the elaborate dresses and hair, Regis shares that it's really easy to cast hard shadows on the face. 
"In the past I had to run left, right and center to constantly change the setting. Now it's a seamless process and we are able to adjust the lights more frequently. Being able to quickly access and control all of our lights is essential when working with kids.  The Raven makes lighting easy and allows us to move at rapid speed."
Photo credit: Kahran and Reggie Bethencourt
This also allowed Regis and Kahran to experiment with lights and get more creative, letting them add more lights than they normally would. "You don't have much time with children. They are quick and spontaneous and if you miss a good shot, you'll never capture it again."
As the photoshoots are uber creative, the Raven helps CreativeSoul Photography push their boundaries even further by taking more control over the light setup. Regis and Kahran are all about embracing shadows and creating a dramatic effect – when needed. While most photographers opt for clean and airy images, this dynamic duo deliberately plays with shadows as they feel it gives the images more power.
Speaking of power, Regis told us another thing he absolutely loves about the Raven: "The Raven is a powerful device that charges fast, without the need to replace batteries. Since I'm sometimes unorganized, this feature makes me very happy! If I forget to charge the Raven, I can simply plug it into a socket between setups and in minutes it's ready to use!"
We're so glad Regis finds this efficient. The Raven has a built-in 2500mAh rechargeable lithium-ion battery that delivers up to 16 hours of continuous use (or up to 30 hours depending on environmental conditions).
Photo credit: Kahran and Regis Bethencourt
Kahran and Regis' work really is exquisite and that is in large part due to their willingness to push boundaries and courageously step into the unknown. 
Kahran and Regis urge all photographers to not be afraid! As long as you're passionate about your niche, they believe experimenting is the best way to open new doors in photography and produce content the world has never seen.
Learn more about the Raven from our Explore Raven section on the website:
OLED touchscreen and lithium ion battery
Photographer: Regis and Kahran at CreativeSoul Photography
Personal portfolio: http://creativesoulphoto.com/
Instagram:@creativesoulphoto