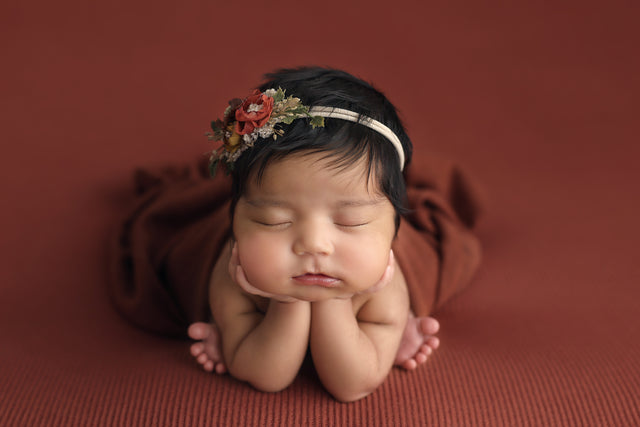 Carlos And Cristina Create Magical Newborn Baby Photographs With The Raven Flash Trigger
Carlos and Cristina Meraz met in 2009 and four years later they embarked on their photography career journey together. Located in Tustin, California, the couple specializes in newborn photography. With nearly a decade of experience, these two have photographed hundreds of babies and are nowhere near slowing down now that their photography has entered a new direction with even more room for creativity thanks to the Raven flash trigger.
Photo credit: Carlos and Cristina Meraz
Importance of client relationships in establishing a comfortable photoshoot
The Meraz's journey with their clients starts during the pregnancy and continues through to the birth and to the baby's first birthday cake smash! Building relationships is at the core of their business, so parents leave each session feeling joy. Having a successful newborn photography session isn't about creating the perfect gallery - it's about creating a session where everyone is comfortable, happy and the baby is safe.
Photo credit: Carlos and Cristina Meraz
Photography gear kit and workflow
Carlos and Cristina recently upgraded their photography gear kit to the Canon R6 with an RF 28-70mm F/2L lens. For newborns their flash kit includes a Paul C. Buff Einstein with the 86-inch PLM with a white diffuser. The gear kit is usually the same for maternity shoots, with the exception of a 47-inch octabox or 64 in PLM.
"Love to be able to work with multiple lights being able to control the light power individually from the Raven. Having the option to turn our strobes on or off by just pressing a button on the Raven is such a time saver. We don't have to get up on the ladder anymore to manually turn the strobes on/off."
 Photo credit: Carlos and Cristina Meraz
Positioning and posing while creating a comfortable environment
Photographing newborns is an art. Cristina and Carlos begin photoshoots using a white noise machine to help the baby fall asleep. Then, using her special touch, Cristina handles the baby, positioning the head a different way, the arm there, the finger here and so on... and as much as it may seem complicated, there's a method to her madness!
Photo credit: Carlos and Cristina Meraz
For Cristina, posing newborns, and paying attention to where their head lies and legs fall, is a crucial part of her and Carlos' daily work. "Regardless of how you pose the newborn, make sure you have something comfortable for the baby to rest on during the shoot like a bean bag, pillow, or cushion."
Lighting setup for newborn babies
Photo credit: Carlos and Cristina Meraz
Cristina and Carlos find that a one-light setup tends to work best for newborn photography. Using the Raven, they can quickly dial in their preferred settings. "We love the touchscreen and ring dial," Carlos says. "It's super smooth and satisfying. The menu is simple and has so many features to test and play around with."
When props are included in the background, Cristina likes to keep her aperture at f2.8 to make the props appear slightly sharper, as opposed to super soft. But when photographing families with babies, she moves the aperture to at least f5.6. Adjusting the aperture automatically changes the lights.
Photo credit: Carlos and Cristina Meraz
"Once my lights are set, I only change my aperture," explains Cristina. "One less thing to worry about when shooting with newborns."
The Raven's customer support team ensures the product fits your unique photography needs
The Raven is programmed to make a beeping sound when the lights are triggered. Although the sound is not loud, Carlos and Cristina found it was still enough to agitate a baby. They brought the issue to the Fusion TLC customer support team in hopes of a solution. "I am impressed with the Fusion TLC customer support," exclaims Cristina. "The team was very fast in hearing out our requirements and within a week solved the issue."
Photo credit: Carlos and Cristina Meraz
To be successful with newborn photography, Cristina advises that learning how to swaddle and pose a baby is crucial. Angles need to be right in order to create the perfect photograph. She recommends photographers purchase high quality backdrops and props, otherwise your images can turn out looking cheap. At the same time, be mindful of overspending. It's best to stick to neutrals and classics. 
Learn more about the Raven from our Explore Raven section on the website:
Photographers: Carlos and Cristina of C&C Meraz Photography
Personal portfolio: C&C Meraz Photography
Instagram:@ccmerazphotography
Facebook: @CCMerazPhotography