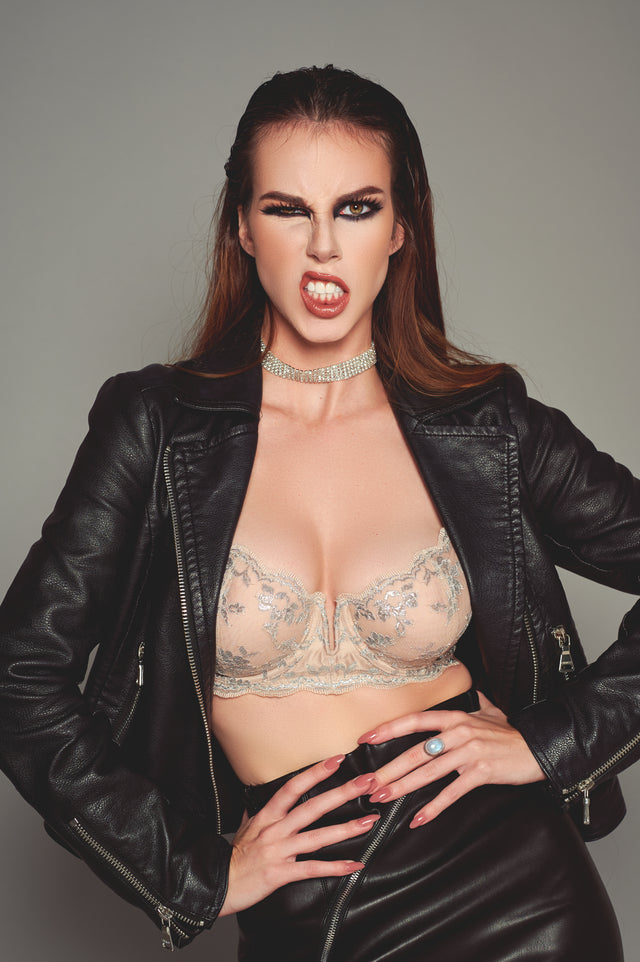 Luis Uses The Raven To Tell Three Completely Different Stories
When he was 18 years old, Luis M. Cara, a Mexico City native, chose computer systems engineering as his professional pathway; but it took him ten more years to find his true passion: photography. Always intrigued by the visual space and visual mediums, Luis decided to buy his first camera for his honeymoon – and that's where it all began. 
Photo Credit: Luis Cara of Luis M. Cara Photography
The Early Years
His first steps in the photography world came in the form of inanimate objects, things that caught his eye. Eventually, he moved into portraits, with his wife as his muse. Work relocated him and his family from Mexico to California, where he slowly but surely started making a name for himself in the portrait world. One of his first collaborations was with a guy model/stylist. The two became great friends, and Luis was soon recommended to colleagues and industry contacts who were also fashion bloggers/stylists. Soon, he had a notable portfolio that helped him transition from fashion bloggers into models. It's been six years and over 1,000 photoshoots since that first collaboration. 
Luis' kit and workflow
Luis originally started photographing with a Nikon D600 but is now using a Sony a7IV. His go-to lens is the 85 mm, F/1.4.
"I really like this lens because it enhances what I'm trying to communicate," Luis says. "When I do a portrait, I can really compress and blur the background and get that amazing bokeh that you see in my photos. It helps me remove distractions and create a really nice point of interest, especially in the face and eyes."
In the studio Luis uses a Godox AD600 Pro lights and depending on the situation, he uses different light modifiers including a 33.5' Mola Beauty Dish, the Westcott 5' Octabank, Westcott Rapid Switch Strip 1x4, or V-flats to replicate what he does outside.
Photo Credit: Luis M. Cara
Prior to a photoshoot, Luis starts off by creating mood boards to help his clients understand the looks and styles they desire. These include street, beach, country, retro and so forth. If a client already knows exactly what they want he will simply run a brainstorming session.
"Prior to a shoot I'll always do a quick review of the physical area. If I don't know the area already, I use Google Maps and Street View to see around the blocks. I also use a web tool (suncalc.org) for looking at the position of the sun. It has a slider for the time of the day, and you can see how the sun is moving."
At the studio, things can vary. Sometimes, Luis tries to replicate the same lightning that he gets when he's shooting outdoors. Other times, he plays with the versatility that a studio brings to do something completely out of the box. 
"I love the studio I work in because it has huge windows. I can complement off-camera flash with soft light out of the windows. There is a window screen to make the light softer. If I want complete light control on flashes, I can black it out altogether."
Luis also begins every photoshoot at the studio by using the Raven's RF Noise Indicator feature. "I love the RF Noise Indicator as I work in a two-floor building that has three studios.
You never know who is using what channel so the Raven's RF Noise Indicator helps me determine channels with interference. It allows me to switch between channels pretty fast. The Raven is super responsive, fast and easy to use."
Three photoshoots, one Raven
To gain a better sense of how Luis uses his equipment, Luis talked us through three of his recent photoshoots. In this first shoot, he worked with model Kelsie, who he'd worked with in the past. 
Luis photographed Kelsie using a Nikon Z6 with Nikkor 85mm F/1.4, one Godox AD600 Pro full-frontal light with a Westcott 5' Octabank triggered by the Raven. As the WestCott 5' Octabank is so huge, Luis positioned it about 4 feet behind him to make the light wrap Kelsie's body, face, and features.
Photo Credit: Luis M. Cara
Luis shares that "the idea of this shot was to get something really clean and simple. I wanted a powerful stare from Kelsie and a strong connection with her eyes. She has a freckled complexion, which is beautifully unique, so we went for a 'clean shoulders' look to enhance her freckles as much as possible." ⠀
In this next image below, Luis used a 45-degree angled light on his right side, with the Godox AD600 Pro on the Westcott Octabank. The light is positioned about 6 feet from Kelsie, with Luis standing next to it. He used 1 V-flat on the black side, on Kelsie's right to absorb the light and create some nice soft shadows to enhance her facial and body features. Generally speaking, Luis is all about soft light and shadow transitions.

Luis also used the Raven's modeling light control as he didn't want to contribute to battery draining of the AD600. The OLED color touchscreen and the soothing clicking sound of the command ring dial made the session even more enjoyable.⠀
Photo Credit: Luis M. Cara
"Instead of having everything evenly lit, I'm now creating more shadows. What I wanted to do was to have contrast, so I can have light but also shadows on her face. By having that contrast on her right side I actually wanted to accentuate the muscles and the toning of the body a little."
Photo Credit: Luis M. Cara
At his next photoshoot, Luis photographed Heather using one GODOX AD600 Pro frontal light tilted at a 45-degree angle on a 33.5" Mola Beauty Dish, with 2 V-flats for negative fill, one at each side of the model. The power level on the AD600 Pro was controlled by the Raven trigger. The image was photographed on a Nikon Z6 with a Nikon 85mm lens at F/8, ISO 100, and 1/200th.
"The Raven helps me get less distracted. When I shoot with it I can adjust the power of the flash without even looking at the OLED touchscreen. I can just switch it up or down a little bit with the selector and it works really fast, you get that sound and touch feedback that will let you know it changed the value" Luis says.
Photo Credit: Luis M. Cara
"The Raven's brightness is another reason why I love using this trigger so much. The numbers are big and clear enough to be seen both day and night. This helps me adjust the power levels with ease. The touchscreen element and sounds of the Raven flash trigger are also winners for me. It's so smooth and easy to feel."
For this third project, Luis captured the beautiful image below of Karsen at Makers Gym with a Nikon Z6, Nikon 85mm F/1.4, Westcott 5' Octabank, GODOX AD600 Pro + window light for fill. He also used the Raven's PowerTracking feature tracking the aperture.⠀
Photo Credit: Luis M. Cara
"As I was playing with the plastic flowers in the foreground I was adjusting the aperture to make them more or less blurry," Luis shared. "The PowerTracking feature was a huge time saver and helped a lot with consistency!"
The Raven's PowerTrack is a hybrid flash control mode that automatically adjusts the flash power level based on changes made to your current aperture, ISO, or combination of aperture and ISO. To use PowerTrack, simply adjust the zone power level setpoint (displayed with a blue arrow) by rotating the ring dial, and let the Raven control the rest. This mode is perfect for studio and location photography where identical exposure is needed, but the camera settings change shot to shot. It allows you to adjust your aperture for depth of field, or ISO for ambient light, without needing to adjust your lights. 
For this project, PowerTrack really allowed Luis to add interest and curiosity with his foreground flowers.
Photo Credit: Luis M. Cara
Luis' two cents
Photographers have a habit of asking a lot of questions about gear when they get started, but Luis believes that it's less about which camera or lens you have and more about knowing how to use the gear you already have. He believes handling your equipment and switching settings should feel second nature – like an extension of yourself! "More energy should be spent on how you're going to compose the shot and  establish a connection with your model to get a killer expression," he says, rather than trying to gather the perfect gear kit. That sounds like sage advice to us.
Luis also took us deep into how he visually perceives the world, which we couldn't resist sharing. Perhaps it will give you a new perspective for your own photography journey?
We hope you find Luis' parting words insightful:
"All my life I've been obsessed with observing my surroundings and really focusing on the smallest details, rather than just 'looking'. People let so many great things pass them by in their day-to-day life and so many details remain unnoticed. They don't realize that these details are the very things that make something or someone really pop out from the rest. Sometimes we don't understand how or why, but these small details are what completes the picture. 
I enjoy seeing those kinds of things: seeing differently, paying attention to details, contemplating how light interacts with our surroundings, and then using it the best way I can to flatter those who give me the honor of taking their portrait."
You can learn more about the Raven from our Explore Raven section on the website:
Photographer: Luis M. Cara
Personal portfolio: Luis Cara website
Instagram: @luismcara
Twitter: Luis M. Cara
Models: Heather @therheign, Kelsie @barbie_5149 and Karsen @karsenkloster