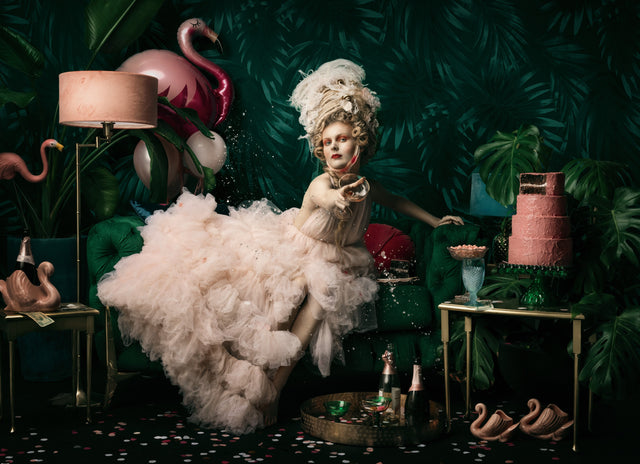 Richard Wood Of The Portrait Masters Raves About The Raven's Feature
Richard Wood is a Hawke's Bay photographer who is passionate about and specializes in commercial, portrait and wedding photography. Apart from taking photographs, Richard is also a photographic educator, mentor and judge with The Portrait Masters, a collection of professionals who provide online training and resources for photographers  around the world. Through The Portrait Masters, Richard delivers numerous self-devised (and highly popular) courses, including The Imagination Series, Creative Portrait Series and Painterly Portraits. 
Over the years, Richard has been awarded the title of New Zealand Professional Photographer of the Year not once, not twice, but FOUR times, as well as Grand Master of the NZIPP (New Zealand Institute of Professional Photography). In 2020, he also won the Creative Grand Award at WPPI in Las Vegas.
Photo Credit: Richard Wood of Richard Wood Photography
Speaking of his awards, Richard says, "I continuously create work for awards because I find it a wonderful platform to push my creative boundaries and keep up with growth in an ever-enhancing industry."
Richard loves creative brainstorming and thrives on photography development that really pushes the boundaries. He is known for his illustrative storytelling, which he produces for himself and sells at galleries.
Richard's creative portraiture gear
Notorious for being a bit rough with his gear, Richard only carries equipment that can withstand his photography sessions! He photographs with a Canon R5, and switches between lenses ranging from 16-35mm, 50mm, 85mm, 200mm, a Sigma 35mm and 100mm macro. He also uses Godox AD 600s. Everything Richard uses is triggered by the Raven.
Photo Credit: Richard Wood
"The Raven is like the screen on an iPhone, so you know how to tap all the colorful buttons. I love it for that. It also works at speed. The fact that it recharges itself and has its own little cord rather than having to run around with batteries… it just feels solid."
Marie Antionette photoshoot
The inspiration for the photoshoot shown below came from a series of brainstorming techniques that Richard uses. In particular, he likes to pick a topic he is interested in, deconstruct it and put it back together again. 
The concept of this first photo is 'materialism'. For Richard, Marie Antoinette is the modern-day Kardashian or Paris Hilton: she has everything! Richard had a whole narrative behind this and was able to depict it through fashion and design. He is always trying to figure out which direction he wants the final image to go in. 
Photo Credit: Richard Wood
To create this image, Richard started off by using the RF Noise Indicator feature. The Raven is engineered to monitor RF noise levels on every channel of radio product the Raven is compatible with. Therefore, it is no longer a guessing game as to which channel should be used to trigger your lighting equipment or remote camera. The RF Noise Indicator solves this, ensuring the channel you select will indeed work – and with predictable and reliable results. 
"The Raven's RF Noise indicator was a lifesaver. We were at an industrial complex so the feature helped me make sure that we checked those bars and were on a free channel."
When photographing this next image, Richard chose to use animals from the Los Angeles Natural History Museum, which he photographed separately! This allowed him to really build a unique piece of photographic art. He also used about ten feet of umbrellas, or more specifically, two six-foot diffused umbrellas sweeping in from the side. The effect is stunning.
"I'm a visual photographer (as my photography indicates) so for me the colored OLED screen carries immense importance as it helps me easily understand what is happening around my surrounding lights. The fact that it is also bright makes the use of this trigger even more compelling."
Photo Credit: Richard Wood
Here Richard used very gentle, soft light from one side and deliberately captured it underexposed. He also used a projection unit. "I often photograph with two or occasionally three lights. I'm always using very soft light, so for me, it's all about controlling that light. The Raven gives me the exact precision I need." 
If you go to France, where Marie Antoinette lived when they revolted against her during the revolution, you'll discover she had a secret door in her room. This piece is a modern take on the moment she went in there to hide but was soon captured. The slither of light shows the door to her hideaway just being opened, and you can sense how resigned and broken she feels, sitting against her broken furniture.
Angel of Death at the Last Supper
Photo Credit: Richard Wood
Another exquisite photograph produced by Richard is The Angel of Death, which depicts the Angel sitting down at the Last Supper with all her minions, planning the end of the world. To create this dark and moody image, Richard used one female model to play the angel, and a single actor placed in various positions for different shots, to create the many other characters you see. The final result is absolutely haunting.


Why awards?
When asked why he continues to enter awards even at such a well established point in his career, Richard states: "I always find myself making the decision to enter an award because what that gives me is a deadline to go out and plan a photoshoot. It's great when you're planning a shoot for yourself because you get to shoot what you want and then dedicate that to an award system. Not only does it make you do your absolute best, but you also push your boundaries, which in turn makes you do better and better. I don't like to say I see it as competing against other photographers, but instead, you're competing against yourself to always level up and do better."
Photo Credit: Richard Wood
In conclusion, Richard advises all photographers to undertake personal projects and capture images for themselves to keep their passion for photography alive. On top of this, he believes entering competitions keeps you working harder!
Learn more about the Raven from our Explore Raven section on the website:
OLED touchscreen and lithium-ion battery
Photographer: Richard Wood of Richard Wood Photography
Personal portfolio: https://www.richardwood.co.nz
Instagram: @richard_wood_photographer
Facebook: @richardwoodphoto
The Portrait Masters' Richard Wood Store: https://theportraitmasters.com/the-richard-wood-store/